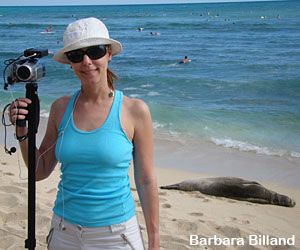 Hello and welcome to The Monk Seal Project. I'm Peggy Mihelich, the creator and author. This story is the culmination of my 15 years working as a Web, print and TV journalist. It is in partial fulfillment of the degree of Master of Arts in Journalism at Columbia University. I hope you enjoy the photos and videos as well as the in-depth text story. May it lead to some thought-provoking conversation!
In the spring of 2009 I was working as the News & Entertainment Producer for the African-American women's lifestyle magazine Essence.com. I had applied to Columbia University School of Journalism but had yet to hear of my acceptance. Wanderlust was on my mind and I started thinking about taking a summer vacation to the Greek Isles. I bought a travel book and started looking up sights of interest. I was struck by a particular passage on wildlife, and specifically by the endangered Mediterranean monk seal. I was shocked to learn they are the most endangered mammal in Europe. Online I read Greece has a rehab center where they rescue and nurse abandoned monk seal pups and sick and injured adult seals. I thought this would be a great story and perhaps I could turn my vacation into a freelance opportunity.
Two weeks later I got word of my acceptance to Columbia. I immediately started brainstorming thesis ideas. The monk seal idea was the one I was most excited about. I stumbled upon a blog about the endangered Hawaiian monk seal (the Mediterranean monk seal's cousin) and the story of one particular seal named KP2, who was raised by humans and later released into the wild. Once in his natural habitat, however, he ended up preferring the company of humans to that of other seals. Next, I read about two shootings of Hawaiian monk seals on Kauai. I started to add it up – two separate cases of human wildlife conflict in one year. I contacted NOAA, the federal agency trying to recover the species and spoke to Mimi Olry, veterinarian and Kauai monk seal volunteer coordinator, for over an hour. Olry said seal populations were increasing on the main Hawaiian Islands resulting in a surge in conflicts. She gave me the names of some volunteers and staff at NOAA. Next up, a lot of research, more phone calls and emails. In early January I flew to Hawaii and met with NOAA staff and volunteers. I spent two days on Kauai and 3 days on Oahu. It soon became clear there were dark forces at play – racism, distrust and anger, for example. This is a complex story. My thesis only scratches the surface. What is happening in Hawaii with the monk seal is happening all around the world where wildlife and humans are in direct competition. How we resolve these conflicts will determine what wildlife we will have for the future. I'm not sure if the Hawaiian monk seal will survive, but I hope somehow it beats the odds.
Maholo!
Peggy
Acknowledgments:
This project would not have been possible without the support of my family and friends. Special thanks go out to my brother Mike Mihelich, my sister-in-law Ann Mihelich and my friend Charles Goldenberg for their work on the logo. To my nephew Christopher Mihelich for helping me with the back-end "Web stuff."
To my advisors Steve Hall and Josh Ginsberg, and Columbia University for supporting this project.
To NOAA, Sea Life Park and the folks on Molokai.
To the guardians out on the beaches: D.B Dunlap, Barbara and Robert Billand, Lloyd and Mary Frances, Patricia Sullivan and Mimi Olry.
And special thanks to Hawaiian monk seals — Ha'upu, Right Spot, M&M, Ekolu, Spruce, Lamchop, Kermit, Irma, KP2 and all their brothers and sisters hanging on out there!