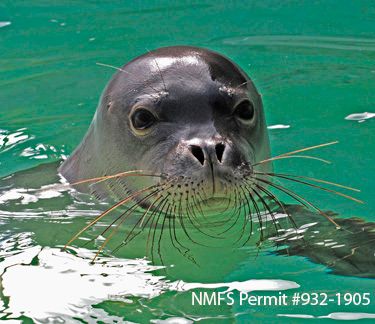 Despite the conflicts, the main Hawaiian Islands are the seals' best chance at a future, so NOAA has developed a multi-pronged strategy they hope will gain the support of the fishermen and local communities.
Protecting a species like the monk seal requires incentives. People want to know what is in it for them. This is where NOAA is at a big disadvantage; there is no financial gain in protecting monk seals.
Instead, they are banking on building a cultural tie between the seal and native Hawaiians.
In a Hawaiian chant known as the Kumulipo, which represents the religious belief system of the native Hawaiians, there is mention of Ilio-holo-ika-uaua, which translates to "dog that runs in rough waters." Many think this is a reference to the monk seal. If the monk seal is important enough to be a part of their religion, then Hawaiians should afford it some protection. But there are many doubters. "It's hard," says Ritte. "The story has to be based on something more important than feeding your family."
Changing negative attitudes and dispelling misconceptions is also needed. The story of KP2 showed that NOAA officials do not completely understand the attitudes and beliefs in the local communities. The agency has since contracted with a firm to conduct a survey directed at target audiences, like fishermen.
And officials are identifying local community leaders willing to act as go-betweens. "We can't go to the fishermen directly," says Jeff Walters, Hawaiian monk seal recovery director. "They don't want to hear it from us haoles ('whites' in Hawaiian). They want to hear it from somebody they trust." Somebody like Ritte.
"Walter was not happy with the fact that we had to take KP2 away and he wasn't happy with the way we did it," Walters concedes. "But thank goodness he's the kind of man that is willing to agree to disagree. He cares about Hawaiian monk seals and wants to be deeply involved in their conservation."
It's a problem that the community must resolve itself, Ritte believes.
"NOAA is going to have to let us take the lead. We can't have the government telling the story. It has to be community initiated. It can't be – I'm the government, do what I'm telling you to do. No matter how good you are as a NOAA employee, you work for the United States government that has done bad things to our people," he says. He told Walters: "I'm going to call you, talk to you, you are going to give me the information I need, but you can't change us. We are going to have to change ourselves."
And now that the penalty for killing a monk seal has been increased from a misdemeanor to a felony, courts need to back it up with tough sentences, sending the message that harming a seal has serious consequences.
"We need to explain to people that this is a native Hawaiian monk seal. 'You are a Hawaiian. You are killing a Hawaiian monk seal? You better have a good reason for killing a monk seal!'" says Ritte.
Law enforcement will be vital because the federal government will soon designate critical habitat for seals in the main Hawaiian Islands.
The designation calls for protection of selected beaches and surrounding waters. Critical habitat in the Northwest Hawaiian Islands will also be increased.
Critical habitat gives the animals an extra layer of scrutiny when people are applying for federal permits. It doesn't mean regular activity, like fishing, must stop. The government insists that critical habitat will have minimal impact on local Hawaiian people.
But it's unclear whether designating critical habitat will help the seals. Critical habitat has yet to increase food supply for young monk seals in the Northwest Hawaiian Islands where fishing restrictions are being implemented, according to the monk seal recovery plan.
Opponents see it as another layer of bureaucracy, the government trying yet again to intervene in their lives. A petition submitted to the Federal Register in opposition to the designation contends that critical habitat will result in loss of access to the beaches and waters of Hawaii. It goes on to state, "There will be greater impacts on our health, recreational, spiritual and gathering rights and impede upon our livelihood by a seal's potential contraction of diseases from livestock and feral animals."
But changing hearts and minds, enforcing the law and designating critical habitat, still is not enough. NOAA recognizes more needs to be done to raise overall awareness and build public support. What the Hawaiian monk seal needs, local NGOs and national conservation groups say, is a marketing campaign like the bald eagle.
That's happening, slowly. In 2007 the Hawaiian monk seal was designated the official state mammal. Twice a year volunteers across the state organize a monk seal count. They visit beaches, talk to people about their conservation work, sell t-shirts and recruit members. A new statewide non-government effort called the SOS or "Save Our Seal Campaign" is also trying to build support for the species. (PHOTOS: Meet the people featured in this story working to save the monk seal)
NOAA is working with filmmakers to produce a short public service announcement. The PSA will be offered to airlines, the tourism industry, and local radio and TV stations.
And they don't have to look far to find a celebrity to head the campaign.
"I love the idea of KP2 being an ambassador for the species," says Sea Life Park trainer Jeff Pawloski. "He's a feel-good story. I can see it, 'KP2 comes to Sea Life Park.' Come and see him, bring your kids, learn the story of KP2. And while we talk about KP2's story, let's talk about the story that all Hawaiian monk seals are facing."
But it won't be easy. Sea Life Park needs to raise funds to bring in KP2. And they will have to acclimatize him to his new environment."KP2 thinks he's a person," says Pawloski. "I see compatibility issues."
When will he come? It will take time, Pawloski concedes. His best guess is two years.
Kieran Suckling, director at the Center for Biological Diversity, a nonprofit known for its legal action and scientific petitions for the protection of endangered species, says NOAA has it easy when it comes to marketing the monk seal.
"I'm working with biologists in the southeast who are desperate because their mussels are going extinct. Now these guys have a PR problem," says Suckling. "NOAA is sitting on the Goddamn monk seal. It is inherently a rock star. If they can't make it a rock star, it's their problem. They don't need Al Gore. They just need to get this thing's picture out there and promote it. It's inherently charismatic." (PHOTOS: Get to know the seals featured in this story)
For now, KP2 spends his days in a special enclosure kept at tropical temperatures at Long Marine Lab at UC-Santa Cruz. He is doing very well, according to Terrie Williams, a professor of ecology and evolutionary biology, who is overseeing his care. He is waiting to see what the future will bring him.
Thousands of miles away his species waits as well.
— End —